Findings from Nurture Nature Center's social science research studies are designed to be used by National Weather Service, emergency managers and others to improve communication during flooding events.
Making Sense of Uncertainty: Improving the Use of Hydrologic Probabilistic Information in Decision-Making
2018

This new project will help NNC to build on the findings from its prior studies about the needs users have for hydrologic forecast information. The study will engage residents, emergency managers and water resource managers in California, Colorado and New York to learn how they use, understand and make decisions based upon flood forecast products, and specifically, how emerging probabilistic forecast capacity can be most useful. The products studied include the Advanced Hydrologic Prediction Service and specifically hydrographs produced through AHPS and at regional offices; emergency briefings that notify of impending flood events; and centrally, probabilistic forecasts issued through the emerging Hydrologic Ensemble Forecast System. More…
Major Risks, Uncertain Outcomes: Making Ensemble Forecasts work for Multiple Audiences
Research Study of NWS Ensemble Forecast Products  2016

Full report here.
Through a grant to East Carolina University from NOAA's CSTAR program, Nurture Nature Center in 2016 undertook its third social science research study of NWS Products. This project, "Major Risks, Uncertain Outcomes: Making Ensemble Forecasts work for Multiple Audiences," used focus groups and surveys with residents and emergency managers in West Virginia and Maryland to understand how NWS' Hydrologic Ensemble Forecast System works and could be improved for various audiences.
For those living or working in communities near rivers and streams, having inforfmation about forecast water levels is critical for planning. Property owners and emergency managers need to know if a flood is possible or imminent, while water resource managers need detailed information to control infrastructure and water supply. While National Weather Service (NWS) deterministic forecasts, represented as a hydrograph, are a go-to resource for decision makers, often it is useful to know the full range of possible levels that could occur, and understand the inherent uncertainty in river forecasts at longer timeframes. More…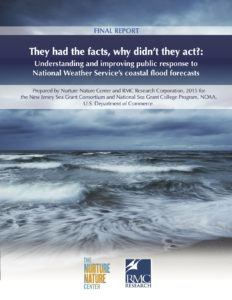 They had the facts, why didn't they act?: Understanding and improving public response to National Weather Service's coastal flood forecasts" (Coastal) 2014

Full report here.
During acute coastal storm events, residents and emergency managers need specific, accurate, and timely information in order to make decisions about how to prepare for the threat of coastal flooding. But often at these times, they are inundated with information from a variety of sources, including social media, broadcast media, and government agencies. Amid all this noise, how do people make decisions about when to act, and how can they find the most important information quickly?
National Weather Service's suite of coastal flood forecast and warning products, which are critical tools in this decision-making, was at the heart of NNC's social science research project, "They Had the Facts, Why Didn't They Act?" Through a series of focus groups and surveys, this study examined how residents and emergency managers in Ocean and Monmouth Counties use these and other flood forecast products to determine their response to coastal flooding. More…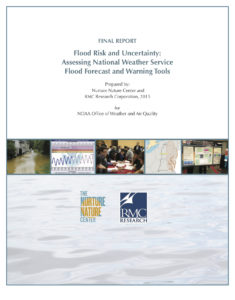 Flood Risk and Uncertainty: Assessing NWS Forecast and Warning Tools (Riverine) 2012

Full report here.
NNC's social science project, "Flood Risk and Uncertainty: Assessing the National Weather Service's Forecast and Warning Tools," supports NOAA's new Weather-Ready Nation initiative, designed to help the nation become better equipped to prepare for and respond to weather events.
The study, which includes focus groups and surveys of individuals living in flood-affected communities in New Jersey and Philadelphia, has two major research questions:
How do people living in the Delaware River Basin use NWS flood forecast and warning tools in understanding their flood risk?
How can these tools be improved so they better motivate flood preparedness and warning response?
NNC's partners on this social science project include NWS Middle Atlantic River Forecast Center and the Weather Forecast Offices in Mt. Holly, NJ/Philadelphia, PA and Binghamton, NY, as well as Dr. Burrell Montz, a hazards researcher from East Carolina University with expertise in flooding issues. More…