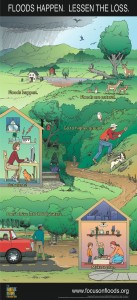 The Focus on Floods DVD-ROM is available to educators, floodplain professionals, emergency management officials and others who are looking to learn more – and help educate others about flooding.  We also offer full-color posters, magnets and other materials that educators can use in the classroom or other setting.  The poster to the left is a beautifully illustrated, full-color poster appropriate for posting in a classroom, office or other public location, filled with hidden gems for teachers. This poster and other materials can be ordered by email to info@focusonfloods.org.  Additionally, we also have six downloadable .pdf coloring sheets that are black and white versions of the scenes in the poster, and six corresponding activity worksheets related to each of the key themes on the back.  The poster has opportunities for teaching about floodplain ecology (see the barn owl on the sycamore tree? Did you know that these owls are common to these trees, which are common in floodplains?), flood mitigation (see the elevated house?), watersheds (see the storm in the headwaters of the creek – where will it travel?) as well as family preparedness (see the family making a go-kit?) and flood safety (see the man avoiding the flood waters, and the man and his dog running for high ground?)  We have also developed a checklist for discussing preparing a family "go-kit."  You can download that here: Family Go Kit List
Additionally, we have prepared materials around the theme of "What's Y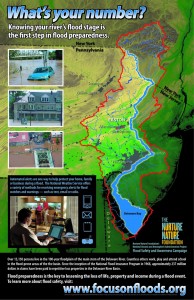 our Number?" that help students to learn about river levels and their own community's flood stage.  This "What's Your Number? poster and accompanying What's Your Number Magnet encourage students to visit the National Weather Service's Advanced Hydrological Prediction Services Page to find their nearest stream gage and learn the "flood stage" at that gate.
Another classroom poster, specifically designed for the Upper Delaware Watershed, introduces the idea that terrain can influence flood risk.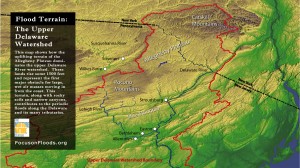 Make sure also to view our animated short film, The Day of the Flood, which demonstrates a community taking the right steps to prepare for flooding: this is perfect for a classroom or professional discussion.
All of  these materials can all be mailed to organizations, educators, municipalities and others upon request.
Home > Resources