Focus Group Registration
Nurture Nature Center is recruiting participants for focus groups in six regions in the United States, as part of a social science research study related to a new winter weather forecast product, the Winter Storm Severity Index, issued from National Weather Service's Weather Prediction Center.  Participants should be professionals who use winter weather forecasts as part of their work-related duties (including, but not limited to: emergency management, transportation departments, school districts, aviation/airports, broadcast/media, agriculture and recreation).
Participants will be asked to answer questions and provide input about various products issued by the National Weather Service.  Your participation will be valuable in developing and improving impact-based winter storm forecasts.
Participants should live or work in the forecast areas and be at least 18 years of age.
Please click on the appropriate flyer for your region for more details, and use the registration link provided to register for your session.
Please email with any questions to Rachel Hogan Carr, Executive Director, rhogan@nurturenature.org
Southern New England (Boston, MA Weather Forecast Office region)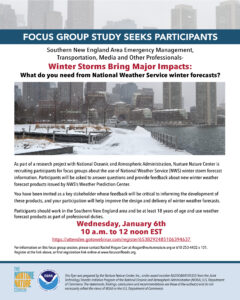 Wednesday, January 6th
10 a.m. to 12 noon EST
https://attendee.gotowebinar.com/register/6538292485106394637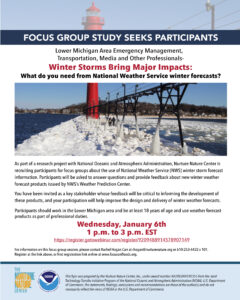 Grand Rapids, MI (Grand Rapids, MI Weather Forecast Office region)
Wednesday, January 6th
1 p.m. to 3 p.m. EST
https://register.gotowebinar.com/register/9209488914578907149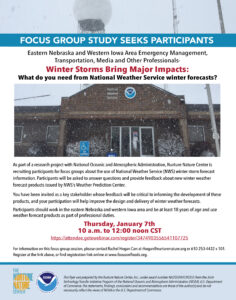 Eastern Nebraska and Western Iowa Area (Omaha, NE Weather Forecast Office region)
Thursday, January 7th
10 a.m. to 12:00 noon CST
https://attendee.gotowebinar.com/register/3474903556541107725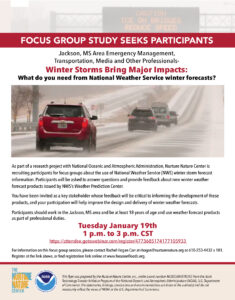 Jackson, MS (Jackson, MS Weather Forecast Office Region)
Tuesday January 19th
1 p.m. to 3 p.m. CST
https://attendee.gotowebinar.com/register/4773685174177105933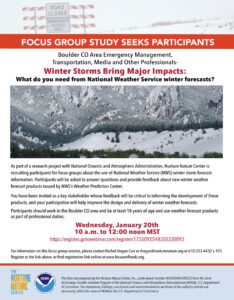 Boulder, CO (Boulder, CO Weather Forecast Office region)
Wednesday, January 20th
10 a.m. to 12:00 noon MST
https://register.gotowebinar.com/register/1755092548350330893
Hanfo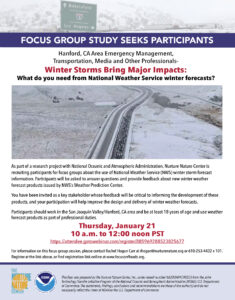 rd, CA (Hanford, CA Weather Forecast Office region)
Thursday, January 21st
10 a.m. to 12:00 noon PST
https://attendee.gotowebinar.com/register/885969288523825677