How The City of Easton, Pennsylvania Addressed its Flood Risk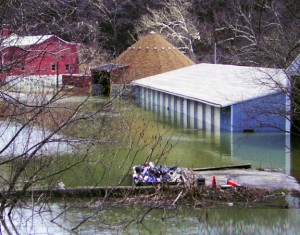 In Easton, there hadn't been a substantial flood in decades. The flood of record in 1955 had faded into memory. But in the warm, late summer waters of the Atlantic Ocean, Hurricane Ivan was on a course to change all that. After devastating parts of Florida and the southern states, Ivan moved up over the Delaware Watershed. That resulting flood was big enough to be very damaging, but it was soon followed by two even bigger storm events in less than 2 years that brought widespread losses to the region.
From Becky Bradley, Director of the City of Easton Codes and Planning Department:
"In the first flood, our City of Easton had a very significant wake up call in that while thousand residents in the region were being damaged, our public works facilities, the very entity that most needs to respond to flood damaged infrastructure, was virtually taken out. Over the three floods, in the area around Easton, people were rebuilding and getting flooded again one or two more times during reconstruction- a good portion of those keeping the same design in the same spot. Some families did have flood insurance but many had not gotten reimbursed from one flood before the next one hit. Some were offered FEMA trailers but this was not advised for a floodplain location.
Each flood compounded the problems we were facing and made the business of recovery more complex. We saw some families just get up and go with a handful of belongings and dim economic future ahead.  A lot of people went through very difficult times…something had to be done.
As it happened, a group of city officials and residents came together as a committee and we reviewed the design concepts and regulations that had gotten us to this point. There was a lot of important history to consider but ultimately, we decided to throw out our existing plan and start over from scratch.
Once we truly admitted the problem, that a portion of Easton is and always will be at risk from floods, it really opened the door to new ideas. One key decision we made was that the 100-year flood level was too low for our needs. It's the minimum federal standard and we wanted a standard that would make our community more resilient.
We decided to move to the 500-year standard because it was safer and complimented our intentions to open up the river corridor and make it the strong environmental, recreational, and economic draw that we (and I mean the community) wanted. The new floodplain level meant the City could regulate buildings that were 15 feet to 30 feet higher than with the previous 100-year floodplain regulation.
We also worked on getting key infrastructure out of harm's way. Today, for example, the City of Easton Public Works has a mobile unit that they can take to high ground and manage flood response. I'm also very happy to say that we have come out with better economic vitality with a more attractive riverfront that has more space and access points. We're still completing the design plan but we're so much better off than before the floods. Ultimately, we hope to be a city that only has to clean up after a flood, not rebuild."
From Dave Hopkins, Director of City of Easton Public Works Department:
The development of the City of Easton dates back to the birth of our country. This means we have limited options for the land we need to run our public works department. We are located in the floodplain and experienced a lot of damage during the recent floods.
We have since changed a number of things:
1.The buildings we operate from and especially need during a flood were wiped out. We now have a mobile unit that we can take to higher ground if a flood is eminent.
2. We also now use secondary storage well outside the floodplain for things like rock salt that we use for icy roads. We keep only what we need in our floodplain location, then re-supply as needed.
3. We elevated our sewage pumping station 2 floors to keep it from getting inundated during all but the largest floods we anticipate. It was unrealistic to move the entire system since it runs under the entire city. But we made the best improvements we could and invested in better designs that maximize our resilience.
Discussion Issues:
The City of Easton is one of the few cities in the United States to voluntarily move to the 500-year level as a higher flood safety standard.
Click Here to see how Cedar Rapids, Iowa dealt with their recovery in 2009 after they had several floods.
Discussion Questions:
5a What measures are appropriate for municipalities to take to improve their flood safety?
5b How can municipalities get support for the substantial work that has to be done to improve flood safety?
5c For communities that choose not to make changes to improve flood safety right away, what measures should be taken to inform citizens in the floodplain about their risk?
5d What might we expect about the economic viability of recurring flood damage areas? How might communities be weaker or stronger after each flood? How might individual families or businesses be weaker or stronger after each flood?
Home > Understanding Flood Risk in the Delaware River Basin > Chapter 5: Easton, PA Raises Its Standards