What the rain does when it hits the ground and gathers in rivers and streams is the realm of surface-water hydrology.
A sub set of this field, flood hydrology, is concerned with how water can gather quickly enough to flow outside of its normal channel and what that water can then do. Though floods can be very beneficial for the natural landscape, the force of floodwater can be quite devastating to those things built by mankind.
A hydrologist has the best training to look at the details of the watershed for questions on terrain, and what a large amount of rain would mean in certain areas (falling on low-laying farmland versus steep hills, or urban parking lots versus wetlands). See the video to the left for an interview with Dr. Dru Germanoski, an hydrology and geomorphology professor at Lafayette College in Easton.
The two primary topics in the next interview are these:
What does the term "100 year flood" really mean?
Is there a substantial possibility for a flood larger than the 1955 flood, which is the largest event in the time we've kept records?
Click here for the data sheet that shows annual peak flows (some of which are flooding) along the Delaware. (More information about historical crests along the river can be found at www.water.weather.gov.)
As Dr. Germanoski explains, the three floods that recently hit Easton were not all 100-year events (see below) and there have been 7 damaging floods since 1923 (once every 13 years on average).
The September 18, 2004 flood from Hurricane Ivan was a 20 – 35 year event caused by a Tropical Cyclone remnant (AKA -also known as- Hurricane)
The April 3-4 2005 flood was a 40 – 70 year event caused by a Cold Season Extratropical Cyclone (AKA Nor'Easter)
The June 28-29, 2006 flood was a 70 – 100 year event caused by a Warm Season Organized Convective System (AKA Thunderstorms)What this really means is that these damaging floods are more common than most people think.
The "100-year flood" Term: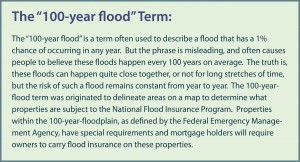 The "100-year flood" is a term often used to describe a flood that has a 1% chance of occurring in any year. But the phrase is misleading, and often causes people to believe these floods happen every 100 years on average. The truth is, these floods can happen quite close together, or not for long stretches of time, but the risk of such a flood remains constant from year to year. The 100-year-flood term was originated to delineate areas on a map to determine what properties are subject to the National Flood Insurance Program. Properties within the 100-year-floodplain, as defined by the Federal Emergency Management Agency, have special requirements and mortgage holders will require owners to carry flood insurance on these properties.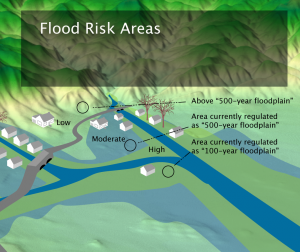 But for public education about flooding, these terms are not very helpful. The Nurture Nature Center urges people to understand their risk in commonsense terms, such as low risk, moderate risk and high risk.
The 100-year flood term has been problematic and these articles help provide some clarity about the deeper issues:
http://ga.water.usgs.gov/edu/100yearflood.html
http://pubs.usgs.gov/fs/FS-229-96/
http://www.msnbc.msn.com/id/25463476/ns/us_news-midwest_flooding/
http://training.fema.gov/EMIWeb/edu/docs/hazrm/Handout%203-5.pdf
http://www.insurancejournal.com/news/national/2008/07/02/91547.htm
More information about the 100-year-floodplain can be found at the Resources page of this site. See the United States Geological Survey's teaching poster, "100-year-flood: It's All About Chance."
The Association of State Floodplain Managers also have an extensive archive of information related to policy issues about floodplain management.
Home > Understanding Flood Risk in the Delaware River Basin > Chapter 3: Hydrology and the "100-Year-Flood"